VIDENT iauto 702 pro is a cost-effective professional multi-application service tool that delivers at least 19 maintenances covering ABS and SRS diagnosis for workshops. Here share this Vident scan tool user manual including registration and software update.
Main steps:
1.Install update client
2.Creat a Vident ID
3.Register iauto702 pro
4.Connect the TF card with computer
5.Download software
Let's go one by one.
1.Install update client
Method 1: Visit VIDENT official website: www.videnttech.com to download the update client from http://www.videnttech.com/support/
Note: The file downloaded is a compressed zip file, please open the file and run the installer inside it.
Method 2: Install the update client from the CD that comes in the product package.
2.Create a VIDENT ID
Method 1: When update client installed successfully, start the iScanzilla software to register firstly
Enter the registration page, input the personal information required and submit
Method 2: Click "Sign up" on the right upper side of VIDENT official website to create a user account
3.Register iauto702 pro
Method 1: Log in iScanzilla with your account registered
Select "Register Product" and tick off the item to enter the serial number and password
Then click on "Submit"
Connect iAuto702 pro service tool with computer via USB cable
Select "Setup"-> "About" to check the serial number and register password
A confirmation message will show confirming successful registration on the screen
Method 2: Register the product in the member center when logged in on official website
4.Connect the TF card with computer
Exit the iScanzilla software
Turn off VIDENT iAuto702 pro firstly
Remove the TF card from it and then connect with a windows computer via a TF card reader
5.Download software
Method 1: When Windows has detected the TF card, run the iScanzilla software and login again.
After a few seconds, it will display a list of the available software updates.
Select the corresponding car brand software you need to update
Please kindly notice:
You only can select one software to update, as you can only have access to the update of this manufacture in the future once it's been selected initially. In case you want to install any other vehicle software, you can contact your distributor or sign in your member center to purchase.
Method 2: Update Vident iAuto702 Pro via CD
Put the Vident CD into PC to read relevant files
Open the CD file and run "iScanzilla Installer.exe"
Select the language you need and install iScanzilla software
Once finish installation, go to register ID
Fill out the personal information to register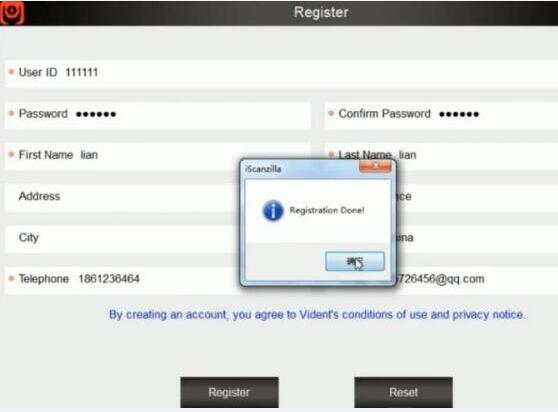 When registration completed, sign in with the user ID& password
Follow the tip at the left corner to insert the TF card
TF card will be identified automatically once insert it to PC via card reader
Registration completed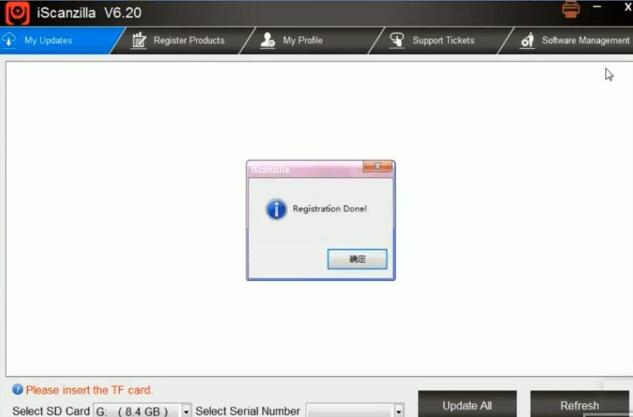 Confirm whether the SN below is the same as that on the password paper or not, if it is, can update successfully