Vident iauto702 Pro oil light and EPB reset function Test.It's easy to use. Just follow the users' guide.
Test 1: Oil light reset
It shows "the next maintenance is after 5200KM" on the dashboard.
Firstly, connect iAuto702 Pro device with my car, then enter iAuto 702Pro main menu, and select "OilReset V16.00"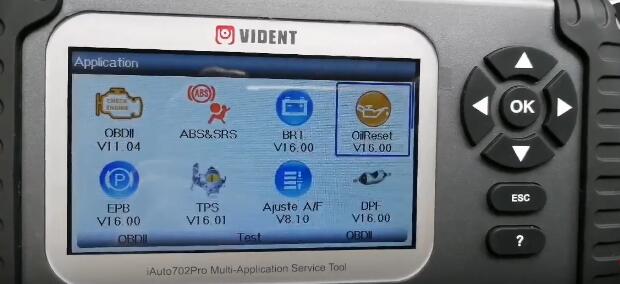 It begins to load the data, wait a moment
A message "Oil service light reset" appears on the screen as below:
– If the service lamp is on, you must provide service for the car. After service, you need to reset the driving mileage or driving time so that the service lamp turns off and the system enables the new service cycle.
– After changing engine oil or electric appliances that monitor oil life, you need to reset the service lamp.
Then press "OK" to continue
Select car model "Mercedes-BENZ"-> "Passenger car"-> "Manual Select"-> "E-Class"-> "213"
Follow the prompt to turn on the ignition switch
Select "Confirmation of general maintenance"
Determine the permissible oil types…
Detect the current service data, and press [F2] to next
The data are being updated, wait 15s…
The maintenance data have been updated to 10,000km
Vident iauto702 pro is confirmed to reset oil success
Test 2: EPB reset
Enter iauto 702pro application menu
Select "EPB V16.00"
It will show "Brake pad replacement" info:
– If the brake pad wears the brake pad sense line, the brake pad sense lines sends a signal sense line to the on-board computer to replace the brake pad. After replacing the brake pad, you must reset the brake pad. Otherwise, the car alarms.
– Reset must be performed in the following cases:
It has too much info, so here only show some parts.
Press "OK" to select car make and car model (same as oil light reset steps)
Switch on ignition
When vehicle communication is established
Enter "Actual value"
Pay attention to the prompt:
*The vehicle must be at a standstill
*Secure the vehicle to prevent it rolling away
*Release parking brake
The status of right electric parking brake is open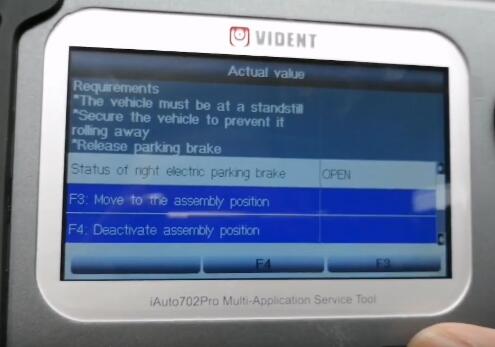 At this time press [F3] button to move the right electric parking brake to the assembly position
Great! EPB is reset success
iauto702 pro can support 19 maintenances special function. So far I only test EPB and oil light reset functions. I will use this vident application service tool to do more tests. Looking forward to it!