Vident iEasy300 is a cheap OBD2 coder reader, work with most 1996 and newer OBDII& CAN compliant vehicles. It can Read/clear stored & pending codes, Turn off Check Engine Light (MIL) and resets monitors; Test & display the voltage of battery; View on-screen fault code definitions; View freeze frame data; Read live data streams; Display I/M readiness; Automatic VIN acquisition and decoding; Retrieve VIN, Cal ID and CVN identifiers from ECU(dependent on vehicle support),etc. Convenient for you to know the real time status of your vehicle without going to car repair shop.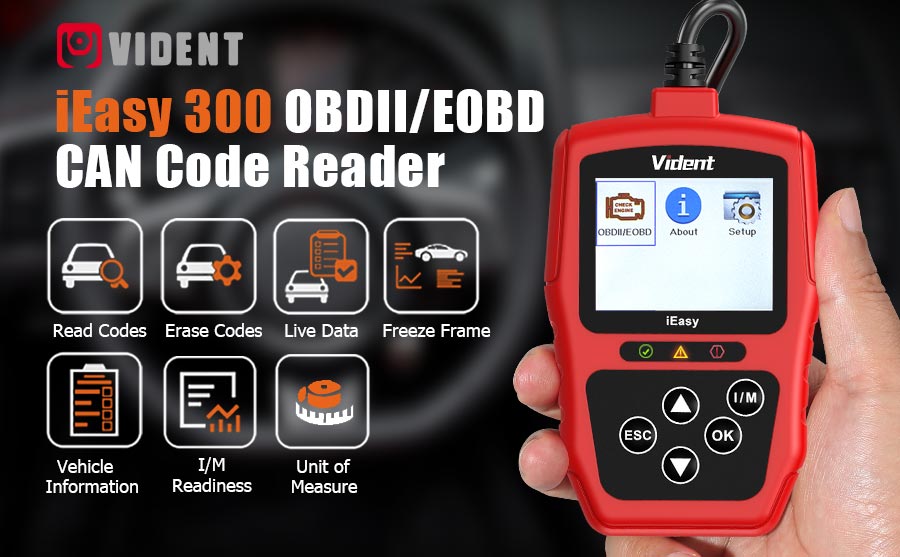 Reviews of Vident ieasy300 OBD2 Code Reader:
John:
I bought this vident ieasy300 becuase I lost my older cheaper tool, At first, I didn't wanna pay much on this kind of tool, so I tried rationalizing purchasing this item because I'm not really a gear head, so I figured its use would be wasted on me seeing as I would most likely use this once in a while. But then I learned that It's capable of working on many different brands cars and would most likely be one of the tools that would be great to have at my disposal in the event I need it. If you arent mechanically inclined and would just want to see if its a code for a major issue that warrants a mechanic it can help you figure that out.this is a must have tool. Its light and portable, and shouldn't take up too much space. If you own something like this baby going to dealer for service will definetly save you great money.
Rando:
Vident ieasy300 scanner is one of the many ways to find out some data about your car. Main advantages are: good compatibility with different cars, supports ten types of testing support, all tests are displayed on one screen, real-time engine status data, reading and saving different codes, ability to identify fault by code, high temperature limit, ability to check oxygen sensor, ability to know battery status, supports a large number of languages.
Hurry:
No more going to the mechanic without knowing what the problem is. Great device, easy to use, and works well.