Vident iLink400 OBD Scant Tool Software Download and Update Introdution:
Part 1:How to Download Vident iLink400 Software?
1. Install update client. Download the update client from our website or from the CD comes in the product package. And install it.
2. Creat a Vident ID. Create your Vident ID either on the update client iScanzilla or our website
3. Register the scanner. Register your scan tool with the update client iScanzilla
4. Connect the TF card with computer. Remove the TF card from the tool and connect with a windows computer through the card reader provided.
5. Download software. Log in iScanzilla to download all available software onto the TF card.
Part 2: How to Update Vident iLink400 Software?
Step 1: Install the Update Client
1.Visit VIDENT official website: download the update client here
2.The file downloaded will be a compressed zip file. Open the file and run the installer inside it.
In addition, you also can install the update client from the CD that comes in the product package.
Step 2: Create your VIDENT account
After install the update client successfully, please create an account
Run the iScanzilla software, click "Register" button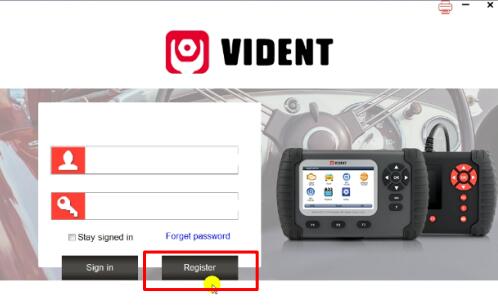 Fill out the information required and submit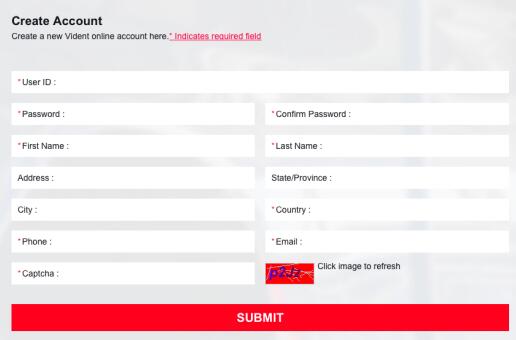 Besides that, you can click the "Sign up" button on the right upper side of the official website to create a user account
Step 3: Register your product
Login iScanzilla, and click the "Register Products" icon
Tick off the item "001" and input the serial number&password of your VIDENT scan tool
Then click "Submit"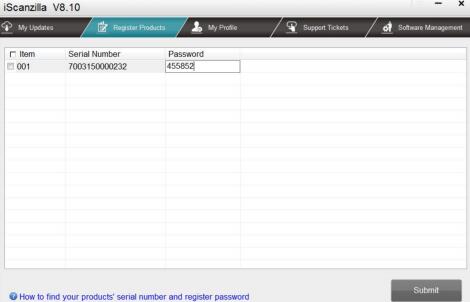 Note:
Please connect the scan tool with computer via USB cable
Select "Setup"-> "About" to check the serial number and register password
A confirmation box will show confirming successful registration on the screen
Alternatively, you can register the product in the member center when logged in on official website
Step 4: Update the software
1.Close the iScanzilla software, confirm the Vident scanner is turned off firstly, and then remove the TF card from your tool to connect it to the PC via a TF card reader
2.Once the TF card has been detected by windows, run the iScanzilla software and login again.
Click "My Updates" icon, wait a few seconds, and a list of the available software updates will appear
Note: Make sure the correct serial number is displayed in the drop-down list
Click the "Update" button to download and install available updates